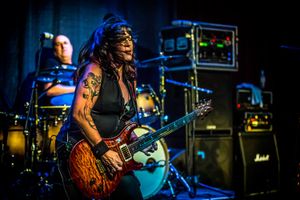 For Los-Angeles based artist Roni Lee, music has always been the perfect vessel of true, unadulterated expression. With a life journal full of memories and experiences that span a highly-decorated 40-year career in music, Lee is a prime example of a self made woman in rock and roll who has managed to transcend boundaries, subvert expectations, and always live life to the fullest. 
Roni began her career without hesitation, as she relocated to Hollywood, CA at the age of 17. It wasn't long before she snapped up a position as lead guitarist in the rock band Venus and the Razorblades, a project produced by Kim Fowley. Los Angeles was the epicenter of rock and roll, and Roni Lee found herself sharing stages with the likes of Van Halen, the Ramones, Steppenwolf, The Motels, and Blondie in the late '70s.  
"We were Kim's little group of teenage musicians. He was always trying to evoke that teen angst and rebellion in us". Unsurprisingly, Fowley didn't have to try that hard.  
Having lost her father at the age of three and her mother being unable to care for her, Lee ended up living with her grandparents in Oregon for a number of years. She inevitably became enamoured with music, and the process of creating it. It was also at her grandparents that she taught herself to play the guitar, the instrument that has gone on to shape the soundtrack of her life, and subsequently -- for many of her adoring fans.
1977 saw Lee and Fowley co-write the Runaways' track "I Want to Be Where the Boys Are". The song appeared on the band's "Live in Japan" album, which went on to reach certified Gold. Over the years, she has been signed to labels Island Records, L.A., Mushroom Records, and Canada (Heart Label), has been nominated 5 years in a row for the Best San Diego Rock Band at the San Diego Music Awards, and not to mention -- has rocked the stage with countless talented musicians. Additionally, she has been featured on the sci-fi TV show Defiance as a vocalist.   
Currently touring the U.S. with the new EP "Doll Face", and running her own label, Play Like a Girl Records, Roni Lee shows little signs of slowing down. With plenty more musical moments to create, Roni Lee invites you to join her. Head to http://www.ronileegroup.com/ for tour dates, bookings and more.
• Roni's voice and guitar are featured on TV shows such as: Defiance, Midnight in Texas, American Housewife and others.
• Currently performing with Lynn Sorensen, former bassist for Paul Rodgers and Bad Company, and drummer Jeff Kathan    Roni's album, "Heroes" was produced by Warren  Huart and was recorded at Sunset Sound Recorders Studios in Hollywood with Lynn Sorensen on bass and world renowned drummer, Kenny Aronoff.
•  "I Want to Be Where the Boys Are," co-written by Roni Lee and Kim Fowley, became a regular part of the Runaways' live set. The song was included on the 1977 Live in Japan album. It went GOLD. "I Wanna Be Where the Boys Are" most recently has been featured in the 2010 Runaways movie and sung by Kristin Stuart.
 • The Woman's International Music Network, founded by Laura B. Whitmore, gives credit to Venus and the Razorblades, as well as the Runaways, for performing in a genre that was dominated mostly by men.  Venus and the Razorblades played a memorable concert with Van Halen at the Whisky a Go Go in 1976, and Van Halen sometimes played the Venus and the Razorblades song "Young and Wild" in their early concert performances.
• In 2013, Lee was granted an endorsement with Paul Reed Smith guitars for her distinctive style of playing as well as her place in punk rock's early history.